TOP COW Talent Hunt LIVE! at ASCQ DTLA!
February 19 7:00 pm

-

9:00 pm
Top Cow is looking to hire one writer / one artist from the ASCQ family of creatives to do paid work for the company in 2020/2021.
Top Cow is looking to hire one writer and one artist from anywhere in the world to do paid work for the company in 2020/2021.
The goal of the Talent Hunt is to find one previously UNPUBLISHED writer and one previously UNPUBLISHED artist and give them a chance to expose their work to the comic industry in the printed and digital formats.
This year's source material is derived from Top Cow's legendary supernatural series: The Darkness. (Picture Below.)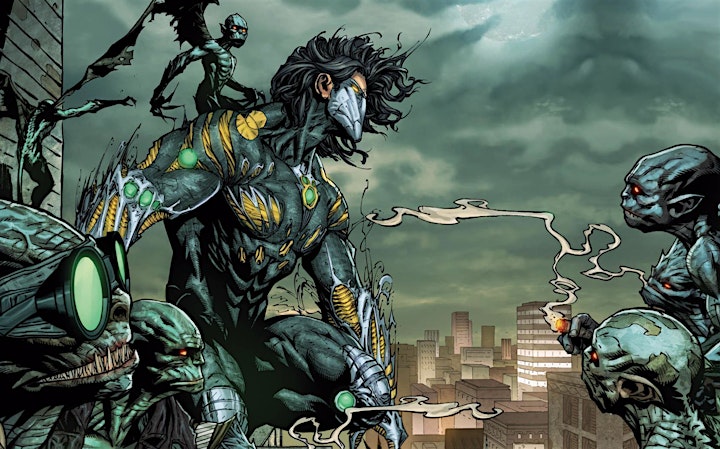 FAQs! (Via Top Cow®)
Source material?
Best reference:
THE DARKNESS: ORIGINS V1
THE DARKNESS: DARKNESS/ BATMAN & DARKNESS/ SUPERMAN 20TH ANNIVERSARY COLLECTION
THE DARKNESS COMPENDIUM V1
How many pages do I need to send if I'm an artist?
8 pages of sequential art.
We are looking for artists who do finished pencil work, pencil to colorwork, digital painting or pencil/ink/ink wash combo appropriate for black and white publication. If you are an inker or colorist you can submit your work to Top Cow through regular submission channels but they will NOT be considered for this Talent Hunt.
If you are part of a pencil/ink/color team and want to submit together we will accept that but you submit as one final piece of finished/colored or B/W art. If you are a team and win the compensation will be split 40% to the penciler, 30% to the inker and 30% to the colorist.
We will accept just pencils as a submission. Note that if you win, we will assign you an inker and you will not be able to "choose" who inks or colors your pages. You will be consulted, but the decision will be ours.
How long does my script have to be?
You need to submit a 20-page full script (left-justified) of the story you are pitching (panel breakdowns, dialogue, etc.) and ONLY a 20-page full script. This does NOT mean 20 pages in a word document; it means 20 comic book pages broken down by script and panel descriptions. This may take you more than 20-word processing pages. One tip is that you need to do a page break between comic book pages, each PAGE 1 or PAGE 20 followed by Panel 1 should be at the top of a page. If you don't follow these simple instructions this will disqualify you and your submission will not be reviewed and will be discarded. If you don't know what a FULL SCRIPT format should look like, there are plenty of resources available online or look at the scripts included for the artists.
This is a good one: http://www.comicsexperience.com/scripts/
From past Talent Hunts, we can tell that a lot of people wrote their pitches as the first part of a long arcing story. THIS IS NOT WHAT WE WANT. It needs to be a self -contained story with a definite beginning, middle, and end. No cliffhangers, this isn't a pitch for you to write a "100 issue" arc of something for us. Doing that will only result in you being tossed in the no pile.
Also, please note that we do NOT want a synopsis this year. You'll write a full 20-page comic book script and bring it with you on the date of the event.