NEW VISIONS 2020 by Visual Reality
January 11 7:00 pm

-

12:00 am
The time has come – Visual Reality is back with NEW VISIONS 2020!
Look into the future of visionary art and music at this full-spectrum new media festival at Wisdome.LA
▲ Immersive Psychedelic Dance Party w/ Mind-blowing 360 Visuals
▲ Live Digital Painting + Augmented Reality Art Exhibition
▲ Transcendent Virtual Reality Voyages / XR Experiments
▲ "SEESound360" Cymatic Soundbath Dome Installation
See new sights, hear new sounds, and dive into new dimensions of creative expression in 5 massive projection domes. Together we will set positive intentions for a new decade of exploration and awakening of consciousness.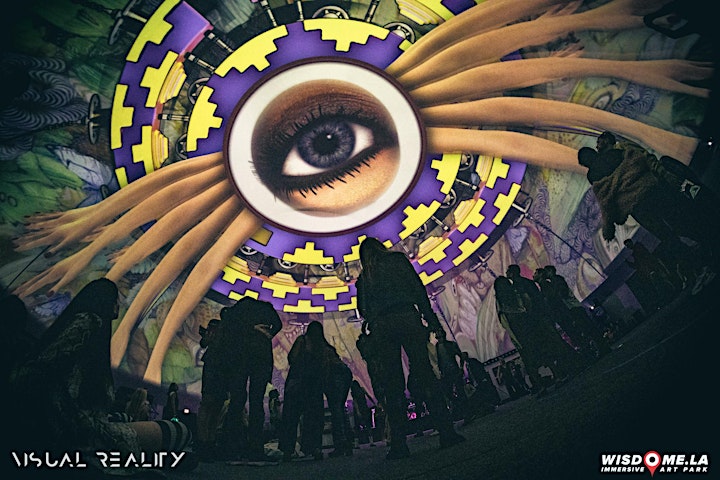 ▲ Headlining sets from Birds of Paradise and Shamans Dream Music – live in 360! Also featuring the debut of "The Transmission" (with Torkom Ji), an angelic opening performance by Divasonic, and a special appearance by the psychedelic rapper D'rok The menace.
▲ Stunning full dome projection mapping by Michael Strauss and the debut of Ben Ridgway's 'Time Trance' 360 immersive film
▲Visual Reality's new "SEESound360" 3D cymatic visual sound bath dome installation created by the audio/visual wizards Torkom Ji and Michael Strauss
▲ Live painting in virtual reality by the award winning digital innovator Sutu Eats Flies and Visual Reality's resident VRtist Liquid Light Project. Experience Sutu's latest 360 VR work and augmented art powered by EyeJack.
▲World premiere of "A New Vision", a stunning new immersive 360 dome film produced with Ben Temple Step and Darpan.
▲ Augmented Visions: This digitally-enhanced art exhibition demonstrates new forms of expression using projection mapping and AR software. Curated by Michael Strauss, the gallery features visionary art from an amazing lineup of innovative visual artists including Ben Ridgway, Simon Haiduk, Brad Rhadwood, Hakan Hisim, Benedigital, Vajra, and Salviadroid. Witness unbounded creativity as canvases magically spring forth with animation, and sound effects. Reality will never be the same!
▲ Transcendent VR gallery curated by Visual Reality: Plug in and open your eyes to a full spectrum of immersive art, multi-sensory meditations, and interactive experiences. Discover new realities in our continuously evolving collection of groundbreaking projects created by our collective of interdimensional artists, audio alchemists, and digital wizards.
▲ Delicious Vegan Food / Vendor Village / Conscious Community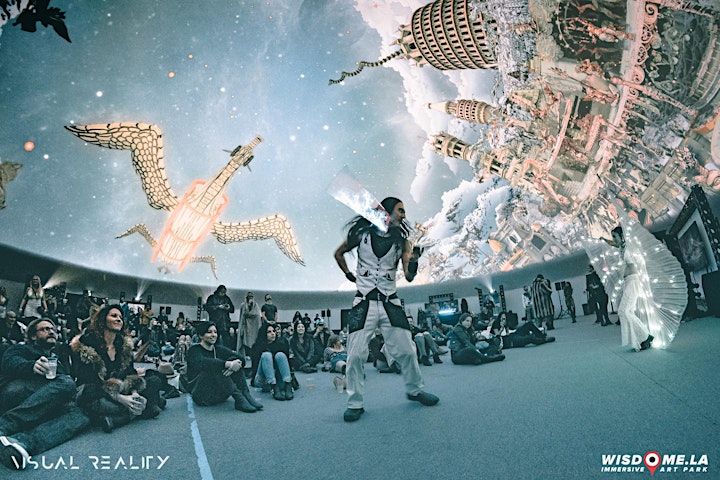 NEW VISIONS explores a variety of technologically enhanced art forms that are designed to inspire wonder and enhance perceptions. Seeing is believing in this world of infinite possibilities and simulated delights.
Meet old and new friends alike as we gather for this once-in-a-lifetime trip through space and time. The portal is opening – it's time to take the dive into a new reality. See you on the other side!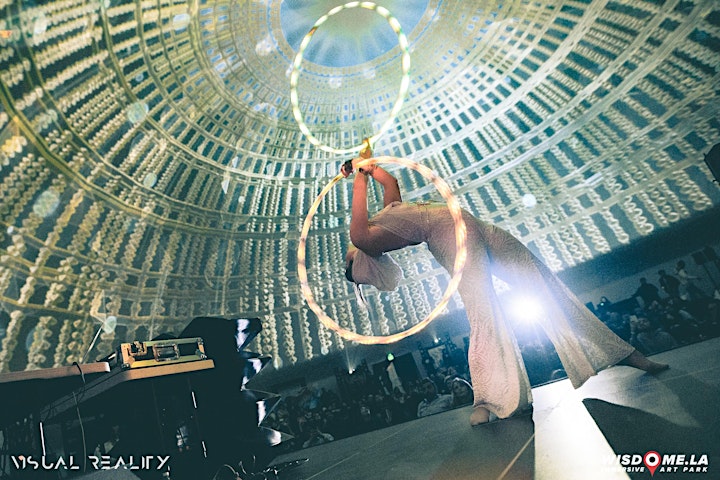 Visual Reality is LA's original immersive event collective, bridging the gap between art, technology and consciousness since 2016. We are known for designing experiences and making moments that open hearts, lift spirits, and blow minds. We create environments that facilitate deep inner journeys, as well as community building social connections.
Wisdome.LA is a new 35,000-square-foot art park that offers several massive domes. Four of these domes feature 360-degree projection mapping technology with surround sound. The main 90ft performance dome can bring over 500 people along on an unforgettable trip through synchronized live visuals. You are invited to explore infinite new realities together in this unique "shared VR" theater.