Melting Rainbows – Immersive Performance Art in 360
February 14 6:00 pm

-

February 15 9:00 pm
Melting Rainbows Live Visual Art Show in 360 VR
Renowned L.A. based artist, Aaron Axelrod, takes over Wisdome LA for the highly anticipated Melting Rainbows visual art show live in 360. A contemporary psychedelic experience featuring your favorite bunny's mind-melding live art dome show and exhibit.
"The future of L.A.'s art scene"
The Washington Post
Melting Rainbows is a multi-faceted art project conceived by visual artist Aaron Axelrod. It is part performance art, part video art, and part photography. Created out of the vacuum in the artists practice to not only create in the solitude and loneliness of a studio setting, but to feed off of energy of a crowd.
The other component is that with all other works that get created, it is the final result that gets all the attention and acknowledgement, Melting Rainbows is the complete opposite, it is all about the process, there is no ending, it is always different and for ever changing.
The show will feature immersive art installations, food, drinks, merch and special guest dome dj sets, all inspired by Axelrod's groundbreaking Melting Rainbows project.
EARLY BIRD TICKETS NOW ON SALE!
"An artist whose work is explicitly noisy and outrageous"
LA Weekly
"What has piqued Axelrod's interest has enthralled the art world"
FLAUNT Magazine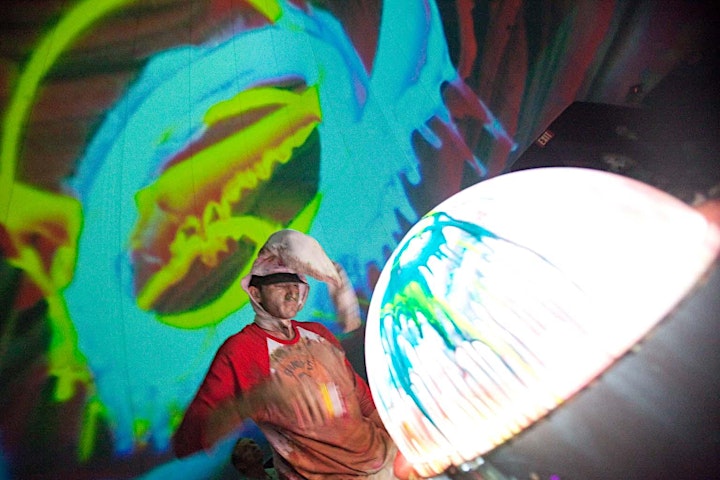 Influenced heavily by childhood fairy tales, psychedelia, and the occult; Axelrod is known for his unique use of the spectacle and aesthetic choices. A practitioner of vast disciplines including painting, installation, performance, sculpture and video art – Axelrod's work has been displayed internationally in galleries, museums and public spaces in cities across the globe.
In 2014, Myspace created a National televised ad campaign around Axelrod's prolific "Melting Rainbows" performance, which aired for a year on MTV.
In 2016 he was honored with a survey exhibition at Barnsdall Art Park and The Frank Lloyd Wright Hollyhock House in conjunction with the city of Los Angeles. Marking the first time in its history a single artist has ever done so.
Axelrod's collaborative practice have included projects for Walt Disney, Swarovski, Apple, KCRW, The Tonight Show, Myspace, Coachella, Refinery29 (29Rooms), Smirnoff, Roche Bobois, Baxter of California, Montblanc and Frank Lloyd Wright.
Featured in publications including The Washington Post, Flaunt, LA Weekly, Creators Project and the New York Times. A CalArts graduate, Axelrod currently lives and works in Los Angeles, the city where he was born and raised.