Digital LA – Podcasting Summit
February 27 6:00 pm

-

8:00 pm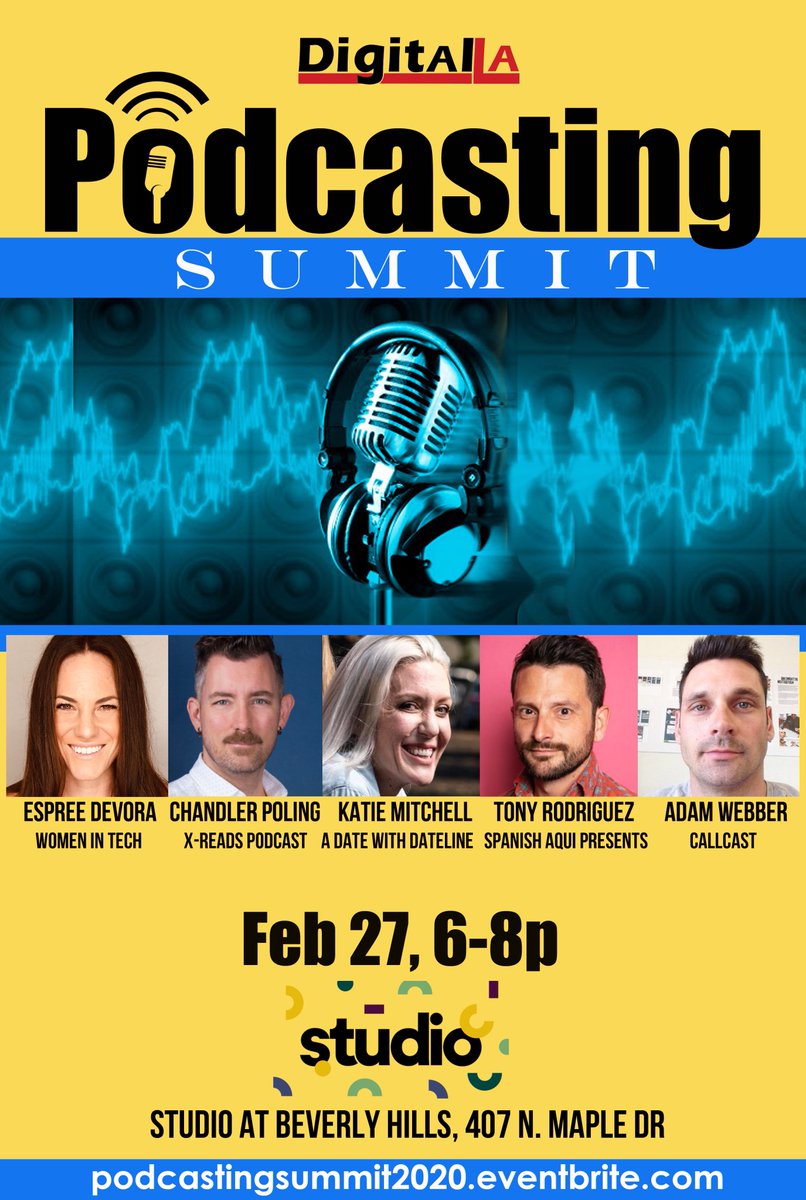 Join us for our Podcasting Summit, featuring two panels of podcasting experts. On our Platforms Panel, several podcasting platforms will share how they help podcasters publish and promote their podcasts. On the Creators panel, seveal established and up-and-coming podcasting creators will share how they started, develop their voice, build their brand, and grow their followers. 
SPEAKERS
Moderator: Espree Devora, Women in Tech Podcast. Espree is founder of the Women in Tech podcast, which interviews women in tech from LA to around the world. Her podcast has been featured on the Apple Store, and several other lists. Known as "the Girl who Gets it Done," she is also co-founder and Podcast host at WeAreLATech, a virtual tourist office for LA Startups. The podcast was #2 across all of iTunes New & Noteworthy and has been featured on Apple's 'Inspiring Women's Voices'. @espreedevora @WeAreLATech
Adam Webber, CallCast.co, Co-founder. CallCast.co is an iPhone App that simplifies podcast recording, editing and publishing to make podcast creation easy for anyone to get started. Adam was a principle of VisionReached an iOS dev-for-hire shop based in Santa Monica CA for the past 8 years. Adam's personal goal is to record 1 new podcast with 1 new person every day of the 2020 year.
Chander Poling, X-Reads Podcast, Co-Host. Chandler is co-host of the X-Reads Podcast which discusses all things X-men, and has been featured on several podcasting articles. He is also President of White Bear PR, which does music and entertainment PR.
Katie Mitchell, A Date with Dateline, Co-Host. A Date with Dateline hour-long fan podcast walks listeners through an episode of NBC's Dateline TV show, with detailed analysis, pop cultue references. Their podcast has been recognized by NBC Dateline as a complement to the show. 
Tony Rodriguez, Spanish Aqui Presents, host. Spanish Aqui Presents comedy variety show features the best Latino improv, sketch, standup and musical talent every month, via Upright Citizens Brigade. 
Zachariah Moreno, Co-Founder & CEO of SquadCast, Zachariah Moreno is a technologist, podcaster, author, and co-founder of SquadCast. He and his team are on a mission to amplify collaboration, seeking to empower creatives to engage in meaningful conversations without barriers.
Host Kevin Winston, Digital LA, Founder
Agenda
– 6-6:15 Check-in and Networking
– 6:15p-7p Podcasting Platforms Panel
– 7-7:45p Podcasting Creators Panel
– 7:45-8p After Networking
PARKING is not validated or comped. Parking is $20+ in the building, so recommended to park on Little Santa Monica, or Uber or Lyft.