There's always something to do in Downtown LA. Keeping track of it all is another thing. Here at Happening in DTLA, we make the planning simple!
Below are our picks for events that you're sure to enjoy this month in the community! For our full calendar of events, JUST CLICK HERE.
The Los Angeles Coffee Festival 2019
$27-$70 || November 8-10 || The REEF
After last year's big success, The Los Angeles Coffee Festival is landing in DTLA again this November. Whether you're a newbie, aficionado, self-confessed coffee geek, or a key industry stakeholder, there will be a curated program just for you. Meet local and international roasters, taste hundreds of different coffees and celebrate Los Angeles' vibrant coffee scene with us. 10% of ticket sales are donated to Project Waterfall, to support life-changing water projects in coffee-growing regions.
For more info and to purchase tickets, click here.
Dessert Goals
$15 – $35 || November 9, 10 & 16, 17 || Evolve Project LA
Because dessert is always a good idea, Dessert Goals is back in LA for their Tie Dye Tiki edition presented by Chase Sapphire®! This is their biggest festival yet, with sweets being served over two back to back weekends! Enjoy a tightly curated selection of the very best desserts in LA for four sugar-filled days on November 9,10 + 16,17 at Evolve Project in Echo Park!
Featured vendors include The Pie Hole, Afters Ice Cream, Colorado Donuts, Sweet N' Hollow, and so many more!
For tickets, click here.
FLEA in Conversation with Malcolm Gladwell
$29 – $100 || November 13 || Palace Theater
Malcolm Gladwell and Flea discuss Flea's new memoir, Acid for the Children, live at the Palace Theatre in Downtown L.A. Malcolm and Flea will journey through his childhood love of jazz, punk, and funk; working with Rick Rubin on the classic Red Hot Chili Peppers albums of the 90's and 00's; and how he became the signature rock bassist.
For tickets, click here.
The GET Together 2019 – Record Label Market & Music Fair at MOCA
$15 – $75 || November 15 & 16 || Geffen MOCA
Bringing together some of the most exciting independent record labels across genres, locally, nationally, and internationally, The Get Together fosters a vibrant music community of artists, fans, and industry alike. After three seasons programming the Come Together Label Fair at MoMA PS1 in New York, Other Music joins up with Spaceland to bring The Get Together to MOCA.
With dozens of amazing labels selling vinyl and other merchandise, you can meet and mingle with the teams behind the records you love and enjoy live performances, DJs, exhibits, food and much more.
For tickets to this event, click here.
An Afternoon with Marie Kondo
$20 – $50 || November 16 || Aratani Theatre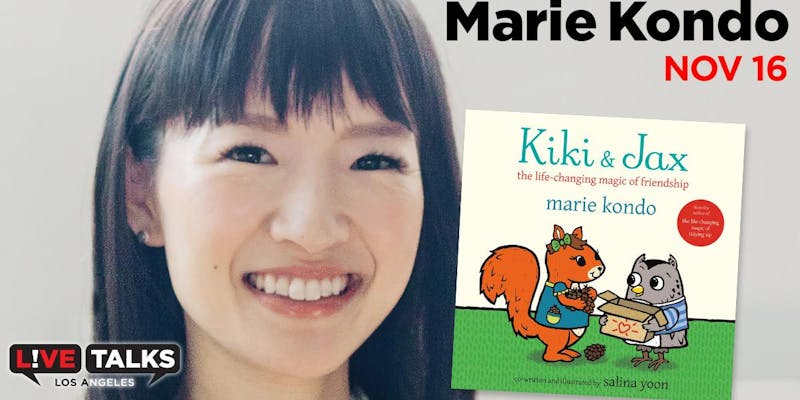 An Afternoon with Marie Kondo discussing her book, Kiki & Jax: The Life-Changing Magic of Friendship
Marie Kondo is a tidying expert, bestselling author, star of Netflix's hit show Tidying Up with Marie Kondo, and founder of KonMari Media, Inc. Enchanted with organizing since her childhood, Marie began her career as a tidying consultant while a 19-year-old university student in Tokyo. Today, Marie is a renowned tidying expert helping people around the world to transform their cluttered homes into spaces of serenity, inspiration, and joy.
For tickets to this event, click here.
Clifton's Curiosities and Cocktail Crawl
$50 || November 16 || Clifton's Cafeteria 
Discover the fantastic world of Clifton's, a whimsical cabinet of curiosities that has inspired Angelenos for over 80 years. Built-in the middle of the Great Depression, the cafeteria is the sole survivor of a once larger chain of eateries owned by Clifford Clinton, who had aspirations of curing world hunger. We will venture the many levels, nooks, and hidden corners while delighting in the history, legends, and specialty libations that thematically shift throughout the space. We will visit with special guests and be invited into areas of Clifton's not open to the public. Curiosities will greet you at every turn.
For tickets to this event, click here.
Pure & Crafted Los Angeles
Free || November 21 || House of Machines
BMW Motorrad is bringing a Bavarian take on the purity and emotion of riding to the heart of downtown L.A. with an exclusive viewing of the Concept R 18 — a hand-built custom that took designers deep into the brand's rich heritage for inspiration. A 1800cc prototype flat-twin powered machine that gives more than a hint of what's about to hit the cruiser segment!
Heritage highlights include a tattoo artist, pin-striping helmet artist, motorcycle photography exhibition from Heidi Zumbrun, chain stitch embroidery, leather works, and a t-shirt press.
Event goes from noon to midnight.
2019 LA Auto Show
$6 – $35 || November 22 – December 1 || LA Convention Center
The 2019 LA Auto Show and 1,000 vehicles return November 22 – December 1, 2019 at the LA Convention Center. Join us at one of the world's largest auto shows, featuring dozens of vehicle debuts, hassle-free car shopping, free test drives, and the latest auto technology, and supercars.
Purchase your tickets before the show to save money; adult "Any Day" and "Monday – Thursday" tickets will increase in price during the show (online and at the show box office). You can find tickets here.
7th Annual Turkey Trot Los Angeles
$44 – $69 || November 28 || DTLA
Earn that Thanksgiving dinner this year! Come join more than 5,000 people running, walking, and having fun on Thanksgiving morning! Dress up, dress down, or just come out and support your friends and family. Sign up one or both of scenic 5k & 10k courses, a Widdle Wobble course for kids under 12. Fun activities available will include a costume contest and a giant inflatable turkey sure to make the perfect photo-op.
Register here.