Who: Smorgasburg Food & Flea Market
When: June 19 10am-6pm + every Sunday onward 10am-6pm
Where: ROW DTLA / 746 Market Ct. Los Angeles, CA
Hailed by The New York Times as "The Woodstock of Eating," one of Brooklyn's most popular tourist hubs is making its way to DTLA this coming June 19! A spinoff of the Brooklyn Flea market, Smorgasburg is a weekend foodie spectacular that showcases unique and mouth-watering treats from local vendors across New York City and beyond. Los Angeles has its periodic farmers' markets, craft beer fests, and taco festivals—but has it seen a food market that will guarantee to satisfy cravings every weekend? Thanks to Smorgasburg, L.A. will get just that and more!
A weekend staple of the borough, Smorgasburg kicked off in May 2011 to bring New Yorkers even more savory and experimental foods from local vendors amidst the gorgeous cityscape of the Williamsburg waterfront. Every Saturday and Sunday from April-November (with a newly opened daily Seaport location) both markets exhibit 100 vendors and attract crowds of close to 10,000 visitors a day. The vendors aren't your average hot dog on a stick and ice cream cone affair either—At Smorgasburg, attendees gorge on an eclectic mess of foods like maple bacon on a stick, burrito stuffed French fries, and yakitori fondue. Between these wacky food combos, free entrance, and killer outdoor views, this is essentially a foodie's theme park.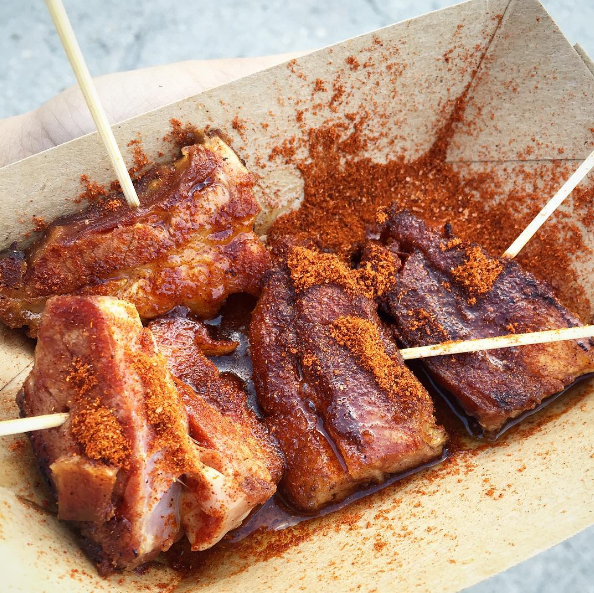 Stationed at the 30-acre ROW DTLA, a 100-year-old re-envisioned market, Downtown L.A.'s Smorgasburg is not only expected to be a phenomenal food experience, but also a cultural hub of design, wellness, and events. The market will run every Sunday from 10 a.m.-6 p.m. According to The Los Angeles Times, upcoming confirmed events include a record fair on July 31 and a RED Campaign collaboration on June 26. Don't think there will be any less food than New York's market though—Smorgasburg is trying to fill out 100 food vendors by its opening day of June 19, and currently has 45 spots secured. Here, you'll be able to gorge on Guerrilla Taco's bacon and foie gras tacos, McConnell's churros con leche ice cream, ramen burgers, Paloma's watermelon tajín paletas, and more iconic L.A. thrills all in one place! The market, like New York, will also have free entrance and, to L.A.'s biggest benefit, a massive parking garage of over 5,000 spots (free parking for the first two hours). The space is sure to be a weekend excursion in addition to a foodie hub for Angelenos and tourists, as ROW DTLA itself will also play host to offices, galleries, and restaurants.
If Angelenos are ever in doubt of what to do this summer, Smorgasburg and ROW DTLA will be sure to confirm their weekend plans and culinary curiosities!